The Mowtown Equipment Blog
Posted by Leanne Schmid on
How Much Snow Blower Do You Need?
Depends on how much snow you need to move and how quickly
Published: November 30, 2015 01:10 PM
The number of inches of snow you need to move per storm is an important consideration, but so is how quickly you want to move it, how much snow your town's plows leave at the end of your driveway, and how much storage space you have in the garage or shed to stow equipment. If you're concerned about your driveway freezing, you'll also need a flat snow shovel or a steel-bristled broom and ice melt.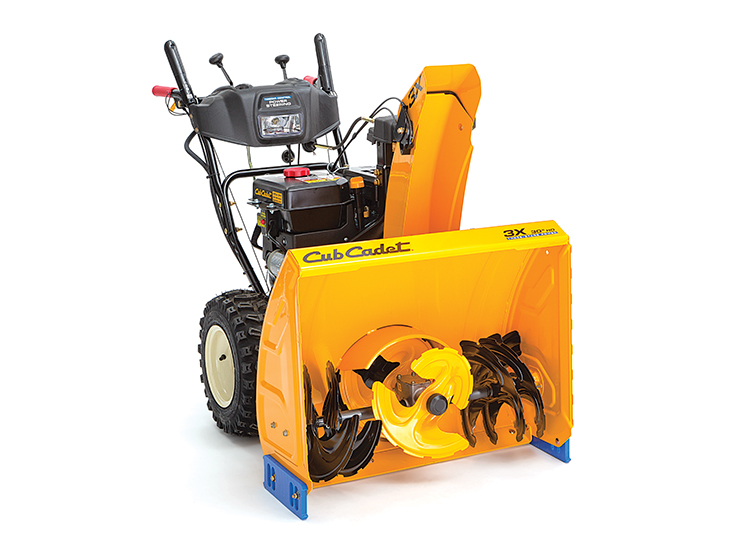 Up to 24 inches
Go for a heavy-duty two-stage model. All models have a spinning auger that breaks up the snow, and an impeller that hurls it out the chute. Better models also have beefier engines, easier steering, and better tires. Lighter-duty two-stage models have the same auger and impeller as larger models and are easier to store. But they don't clear as fast.
Pros. These models clear the widest swath and handle steeper inclines. They can muscle through the snow as well as the frozen piles at the foot of the driveway.
Cons. They're heavy and expensive, and they can take up as much storage space as a lawn tractor. They don't usually clean right down to the pavement, a plus only for gravel driveways, and they need maintenance.
Our picks. For sheer power, the Cub Cadet 3X 30HD, $1,650, and the Troy-Bilt Vortex 2890, a CR Best Buy at $1,300, come with a second impeller in front that helps with plow piles. And if you've gotten complaints about noisy snow clearing, go with the Craftsman 88694, $900, which was quieter without sacrificing performance.
Up to 18 inches
Lighter-duty two-stage models have the same auger, impeller, and driven wheels as larger models, but they don't clear snow as quickly because of their narrower clearing widths.
Pros. They cost a bit less and require less storage space than their larger siblings.
Cons. The less expensive ones come with fewer additional features, such as freewheel steering and single-hand controls.
Our picks. The 24-inch Troy-Bilt Vortex 2490, a CR Best Buy at $1,100, costs more than most others in this group but has the same second impeller as larger units and was as effective against plow piles. Its freewheel steering and single-hand controls also make handling excellent. The 24-inch Cub Cadet 2X 24HP, $900, carries an extra year of warranty, for three total, and cleaned closer to the surface than any other compact two-stage. And though the Craftsman 88173, a CR Best Buy at $680, gives up some helpful features for the price, including easy handling, it did as well as pricier models at ramming through plow piles and ran a bit more quietly.
Up to 9 inches
When you have less than a foot of snow, a single-stage model, which has a high-speed auger to loosen and hoist the snow through the chute, will suffice. These machines have a rubber-­tipped auger that helps propel them forward and is safe for deck finishes.
Pros. They're fairly light and easy to handle, and they clean down to bare pavement. They also take up only about as much storage space as a lawn mower.
Cons. These smaller models have the most trouble with dense, wet snow, particularly plow piles, and they can't be used on gravel surfaces. Their modest pulling power is no match for steep slopes and tends to make the machine pull sideways.
Our picks. The Toro Power Clear 721E, a CR Best Buy at $570, remains the standout for this category, with impressive speed and power for plow piles; it falls short only in throwing distance. The Cub Cadet 221 LHP, $550, offers single-lever chute adjustment and comes with a three-year warranty, a year more than the Toro's. But it scored a notch lower for removal speed, throwing distance, and surface cleaning.
—Ed Perratore
Editor's Note:
 This article also appeared in the January 2016 issue of Consumer Reports magazine. 
Posted by Leanne Schmid on
Posted by Leanne Schmid on
YANMAR Weather the Winter: Winterizing Your Tractor  Storage and Warm-ups, Two Easy Steps to Keep Your Tractor going While we all would like to stay indoors nice, warm and cozied up next to a fire with hot cup of something, little things like work, life, and bills always drive us out into that devil's dandruff. But just because we have to go out to conquer that icy powder doesn't necessarily mean that we have to spend all day doing so. As we make our tractors ready for the frigid winter, focus on simple measures to keep your tractor going. With...
Posted by Parts Expert on
Today Ariens introduced the newest addition to their equipment lineup, the first ever snowblower to use EFI (electronic fuel injection) technology in the industry! While Ariens has been using EFI technology in their commercial equipment for years, this is the first time they've applied it their snowblower line. Here are a few highlights on the equipment that Ariens touched on in their press conference: Easy to start Virtually eliminates maintenance, no draining gas during the summer. Maximum fuel efficiency Maximum power in all conditions The benefits of the engine are obvious for any demographic, but particularly those who aren't as familiar with these...
Posted by Parts Expert on
At Mowtown Equipment, we only carry the best mower brands on the market today, that's why we carry Ariens mowers and products.  One of the newest additions to the Ariens line is the IKON XL Zero-Turn, which was introduced in November 2015. If you're a landscaper or a homeowner with a lot of lawn to care for, this is the mower for you.The IKON was created with the same durabilty and quality that Ariens is known for, but includes several new features needed for cutting larger properties.  Here's a quick highlight of some of the features you can expect from...
---