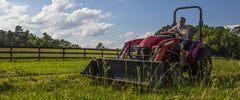 WHO MOWS BEST?
PRODUCT PRO-TIP: MOWER OR CUTTER, WHAT MOWS BEST?
What's the difference between a 3-point-mounted or pull-type finish mower, a mid-mount mower, or a rotary cutter? How do you know which one is the best for your needs?
A finish mower for a compact tractor is a heavy-duty commercial mower designed for a fine cut on larger areas. It's a great implement for those wishing to keep their land nice and neat without spending too much time and effort on lawn mowing.
A mid-mount finish mower does essentially the same job as a mounted or pull-type finish mower, except that it mounts underneath the tractor instead of behind it. Mid-mount mowers tend to better for novice operators who may not like adjusting to the tail swing of a rear-mounted finish mower. Mid-mount mowers give a sub-compact tractor the capabilities of a riding lawnmower---but with built-in tractor strength and durability that surpasses almost any riding mower you could find. And, of course, the compact tractor/mower combination is a much more versatile machine that readily powers a loader, 3‑point attachments, PTO-powered machines, and more to accomplishes various landscaping, tillage and vegetation management tasks.
Yanmar offers customers a variety of finish mowers to cut down help you quickly cross of any mowing jobs that may be on the "honey-do" list. The Yanmar 3-point-mounted finish mower options start at 54 inches and increase to 84 inches in mowing width. Some tractor owners find that a 3-point mounted finish mower is easier and faster to take on and off the tractor than a mid-mount mower.
If your finish mowing job requires more width, ask about our pull-type, flex-wing finish mower options available in a 12.5-foot estate-duty model, and 12-foot, 15-foot, and 17-foot commercial-duty models. How much lawn mower productivity is there in a 17-foot lawn mower? If you average 5.5 miles per hour, that lets you mow more than 10 acres of grass every hour!
https://www.landscapecalculator.com/calculators/mow
Now, when your vegetation management, landscaping or "mowing" job requires heavy-duty clearing and cutting, a rotary cutter is the preferred implement. A rotary cutter does not, however, produce as fine of a cut quality as a finish mower. Therefore, it should be used where the finish quality and appearance are not as important.
Basically, a rotary cutter is what people clip their "back forty" with when they want to keep the land in a pasture/meadow/prairie state and not have it have to turn into brush land or forest. Patches of thistles trying to take over your beef cow pasture and you want to avoid herbicide use? Hit those stickery pasture polluters with a rotary cutter. Very satisfying. Your lawn mowing equipment will thank you and live to mow another day.
Yanmar offers rotary cutters in several cutting widths and machine weights to match the jobs at hand and the available tractor power. Our single-spindle, 3-point -mounted cutters range from 42 inches to 84 inches in cutting width.
Wait, you're saying that's not wide enough? No problem! Yanmar pull-type flex-wing rotary cutters are here to the rescue. They let you do what you need to do to a lot more fescue. Yanmar flex-wing rotary cutters come in 12-foot and 15-foot widths. Those are big rotary cutter widths but these machines are designed to be both strong and efficient-and-trim to match the capabilities of 47 and 59 horsepower Yanmar YT3 Series compact tractors.
As you can see, across a wide range of lawn care and vegetation management demands, there is a cutting and mowing implement designed to help you get more done every hour and every day. Look at the lawns and land you need to maintain. Measure the true square footage or acreage you need to cover. The sum total might surprise you. Decide what needs finish mowing and what needs a rougher form of vegetation management. Factor in the tractor power you have or need to add to the mix. Then you will see which mowing or rotary cutter (or both) solutions you need to care properly for the land you are responsible for.