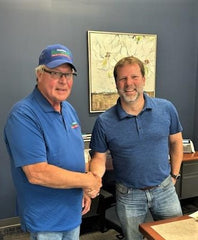 We have some exciting news to share with our loyal customers! After 42 years, Harold Veldboom has decided to retire. We want to express our deepest gratitude to Harold for his dedication and hard work over the years. Mowtown Waldo Implement Inc. has officially been sold to Lochen Equipment, located in Newburg, WI. As a result, we are now operating the business as Mowtown Lochen Equipment!
We understand that change can be unsettling, but we assure you that this transition will be seamless. Harold will still be here for a while to ensure a smooth handover, and Michael Lochen, the new owner, will be splitting his time between both dealerships. We believe that this change will bring new opportunities and improvements to better serve you, our valued customers.
We encourage you to stop by and welcome Michael Lochen to the Mowtown family. Michael is committed to upholding the same level of service and expertise that you have come to expect from us. He shares our passion for providing top-quality products and exceptional customer service.
At Mowtown Lochen Equipment, we pride ourselves on being a trusted partner for all your equipment needs. Whether you're a professional landscaper or a homeowner with a green thumb, we have the tools and expertise to help you get the job done right. Our wide range of products includes lawn mowers, tractors, snow blowers, and much more.
We understand that purchasing equipment is an investment, and we are here to guide you every step of the way. Our knowledgeable staff is always ready to answer your questions and provide personalized recommendations based on your specific needs. We believe in building long-lasting relationships with our customers, and your satisfaction is our top priority.
As we embark on this new chapter as Mowtown Lochen Equipment, we want to express our gratitude for your continued support. We value your loyalty and look forward to serving you for many more years to come. Thank you for being a part of our journey!