Yanmar SA223 Compact Tractor W/ Front Loader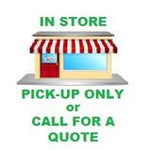 Yanmar SA223 Compact Tractor W/ Front Loader
Multi-purpose Compact Tractor
Description
Conquer your to-do list.
We've solved the age-old problem of putting more hours in your day with the all-new SA223.
This next-level model of our popular SA series gets more done than ever before, whether you're working with heavy loads or on difficult terrain. The SA223 is packed with performance upgrades like dual-range speeds, standard differential lock, and 3-point hitch position control. Powered by our legendary 3-cylinder, liquid-cooled diesel engine, Yanmar's SA223 always shows up ready to work -- so you can get back to doing what you love.
NEW! Dual range speeds, standard differential lock, and true position control on the 3-point lift system for maximum precision and power.
Features
Standard Differential Lock
True Position Control
4WD Selector
Dual Range HST Transmission
Limited (CAT1) 3-Point Hitch


Tractors that get the job done.

The SA223 is for people who share our passion for the land and believe in working that land the right way. Not only is it built with a powerful, fuel-efficient engine, its sleek design is engineered for comfort and efficiency all the way down to the easy-access, high-rise hood.
Built together to work together.

Yanmar makes all the major drivetrain components — the engine, transmission and axles — in-house. And because they're made together to work perfectly together, you get a hardworking machine with more useable horsepower, less power loss and a smoother, more comfortable ride. We call it Performance Link Technology™. You'll quickly appreciate the SA223 as a tractor designed to work as hard as you do.
Comfort and productivity built right in.

A large, comfortable operator's station provides easy access to all controls. The hydrostatic transmission, with convenient side-by-side pedals, allows you to get the job done regardless of the terrain or the implement you're using. And smooth, hydraulic power steering delivers no kickback in the steering wheel for less operator fatigue.
Videos
Tractor Specifications:
Gross Power: EPA Regulation HP (kW)
21.5 (16.0)
Overall Length (with 3-Point Hitch)
102.1 (2,594)
Overall Width (with R4 Tires)
47.3 (1,200)
Overall Height (with Roll-Over Protection, and R4 tires)
82.3 (2,090)
Transmission
Hydrostatic Transmission
Drive Type
Selected 4WD
Lift Capacity (Pivot Pin) lb. (kg)
825 (375)
Bucket Width in. (mm)
48 (1,219)
PTO Power HP (kW)
15.6 (11.6)
Rear PTO Speed/Engine RPM
554/3,200
Mid PTO Speed/Engine RPM
2,057/3,200
Wheel Base
57.9 (1,400)
Front Tires (with R4)
18x8.50-10 6PR
Rear Tires (with R4)
26x12.0-12 4PR
3-Point Hitch
Limited Category 1
SKU:
SA223TL