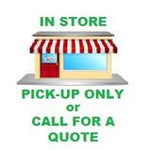 27 HP 852cc KW FX850v, 12cc PARKER HTJ, 60" Fab Deck-Triple 7
3-year limited commercial warranty (no hour limitations)
27 HP Kawasaki FX850v (852cc) engine and 12cc Parker HTJ transmission
60" triple-7-gauge fabricated steel cutting deck with top, bottom and side reinforcements
EQUIPPED TO GET MORE DONE
Every part of the PRO Z 500 S was thoughtfully considered to maximize your work day. Bigger, faster engines and more fuel capacity means more cutting time and more acres mowed, every day. 
MAXIMIZE YOUR WORKDAY
The steering wheel zero-turn option increases hillside stability, helping you cover acres up to 10% faster than comparable lap bar units. Other productivity-enhancing features optimize rear weight distribution, including pre-drilled mounting points for attachments and smart fuel pod placement. 
BEST-IN-CLASS DECK
Stand up to the toughest conditions with the only commercial lawn mower touting a triple-7-gauge steel cutting deck made of 7-gauge top and bottom reinforcements, plus ¼˝ leading edge and 5/16˝ side reinforcements.
CUT DOWN JOB TIME
Finish the job efficiently with a 60˝ cutting deck option and twin fuel tanks that have a 14.9 gallon capacity.  High-performance Kawasaki® engines paired with commercial-grade 12cc transmissions provide optimal and consistent blade-tip speed. 
ALL-DAY COMFORT
Ride in comfort on the standard high-back suspension seat with an angle-adjustment dial and additional customization controls for the perfect fit. 
Specifications 
MOWER DECK
BLADE-TIP SPEED (APPROX)
18,500 fpm
BOTTOM REINFORCEMENT
7ga. (.187") bottom plate
ROLLED LEADING EDGE REINFORCEMENT
1/4" (.250") steel
SIDE CONSTRUCTION
5/16"(.313) steel on trim and discharge sides
SPINDLE COVERS
Steel – Tool-less Quick Release
TOP REINFORCEMENT(S)
7ga. (.187") top plate
TRIM-SIDE WEAR GUARD
3/4" Thick UHMW-PE Replaceable Trim-side Wear Guard
DECK MATERIAL
fabricated 7ga. (.187") steel shell
ANTI-SCALPING
2 Front HD w/ Bushings & Grease Zerk
DECK BLADES
Triple-blade / High-lift blade (standard) Marbain Blade
DECK HEIGHT ADJUSTMENT
Foot pedal with spring assist 
16 Positions
DECK SIZE/TYPE
60" FABRICATED DECK
DECK STYLE/CONSTRUCTION
7ga. top plate 
7ga. bottom reinforcement 
¼" rolled leading edge
DISCHARGE CHUTE
Heavy-duty Flex chute (impact resistant)
CUTTING HEIGHT
1" - 5"
GENERAL
CRUISE CONTROL
N/A
CUP HOLDER
Integrated into Side Pod
FRONT TIRES
13" x 6.5" - 6" (turf tread)
FRAME
Fully welded, full-length 3/8 x 5" laser cut steel / integrated tie-down slots
FRONT AXLE / YOLKS
2" x 3" solid axle tube and 1/2" thick steel front yokes
LENGTH / WIDTH / HEIGHT*DISCHARGE CHUTE UP WIDTH*ROP'S UP HEIGHT
80" L x 50" W x 58" H
PTO CLUTCH
Warner Clutch - 125 ft. lb.
PARK BRAKE / BRAKING
Hand-operated lever with integrated hydro pump release lever
ROPS
2"x2" Foldable 3 Position Low Profile Clearance
REAR BUMPER
5/16" Thick Steel rear engine guard/pre-drilled mounting points for attachments with integrated rear hitch
REAR TIRES
24" x 12" - 12" (Turf Tread)
SEAT TYPE
High-back dial suspension with EVC cushion, seat belt, angle back adjust, arm rests
THROTTLE/PTO/KEY SWITCH
HD Low-profile throttle lever, sealed key switch & electronic fingertip engagement pto
WEIGHT (APPROX)
1060 LBS.
HOUR METER
Standard electronic
SAFETY SYSTEMS
Operator presence
ENGINE & DRIVE SYSTEM
ENGINE TYPE
Kawasaki FX850v
FUEL CAPACITY
Twin 7.45 gal. tanks (14.9 gal. total) with dial gauge
HORSEPOWER / CC'S
27hp - 852cc
GROUND SPEED
Fwd: 10 mph/Rev: 5 mph
TRANSMISSION
Parker HTJ Series 
12cc pump / 260cc wheel motor
STEERING
STEERING WHEEL CONTROL
High Performance Steering Wheel & Foot-pedal Control
STEERING WHEEL ADJUSTMENT
Multi-position Quick-adjust steering column
POWER STEERING
Standard
SPECIFICATIONS
WARRANTY
3 year / no hour limit commercial warranty
SKU:
53TIHJUV050