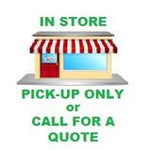 ENGINEER CERTIFIED

4' inside wall height

8' wide models includes a single wood door

10' and 12' wide models include double wood doors

Useful as a garden shed, tool shed, or basic storage shed


BARNS ARE AVAILABLE FOR CUSTOM ORDER IN THESE SIZES. THESE ARE BASE PRICES.
 ADDITIONS SUCH AS WINDOWS, SHELVING, ETC. ARE PRICED PER OPTION. PLEASE REFER TO THE OPTIONS PAGE FOR MORE INFO.
8'                             10'                             12'
8X8    $1775
10X10   $2295
12X16   $3775
8X10   $1895
10X12   $2395
8X12   $1995
10X14   $2775
8X16   $2545
10X16   $2895
10X20   $3495
Need more head room or loft storage? Consider looking at the Lofted Barn.
SKU:
HB1