Branson 2610H Compact Tractor w/ Hard Cab & Front Loader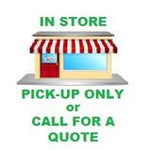 Branson 2610CH Tractor Cab Loader
Whether you're raising horses or heirloom tomatoes, the 10 series compact tractor, the newest in the Branson Tractor family, is prefect for you. It's perfect for both large landscape jobs as well as working in tight spaces around a hobby farm.
24 Horsepower Diesel Engine Tier 4
Hydrostat Transmission
Deluxe adjustable, flip seat
Long wheel base: 65.7″
4 Wheel-Drive
Hydrostatic Steering
Dry Clutch
Single Battery12V
Wet disc Breaks
Live PTO
3-Point Hitch (Telescopic lower link / Telescopic stabilizers)
BL110S Front End Loader
BACKED BY A 6-YEAR LIMITED WARRANTY
Two-Year Bumper-to -bumper Warranty & a 6-year engine and drive train warranty (6-years or up to 2,000 hours, whichever is first) See dealership for details.
Branson 2610h Tractor Specifications:
General
4 Wheel Drive
Hydrostatic Steering
Dry, Single Clutch
12V Battery
Wet Disc Brake
Engine
Engine Model A1100N2
3 Cylinder, Water Cooled Diesel
Swirl Chamber Combustion System
Naturally Asperated
24 Horsepower
3000 RPM
78 x 82 mm Bore x Stroke
Displacement  1175 cc
 21 . 5 : 1 Compression Ratio
Dry, Element Air Cleaner
Fuel Capacity 6.08 Gallons
Fuel Consumption:   0.067 (210 g/hp.hr)
Engine Horsepower HP 24 @ 2,600
Engine HP @ RPM 24 @ 3000
Capacity
Fuel Tank 6.08 gal
Engine Crankcase 1.14 gal
Coolant 1.32 gal
Transmission case  HST: 37 (9.77
Tires
Front Tread 45 in
Rear Tread  43.2 in
AG  7-16, 11.2 – 20
Ind  25 x 8.50 – 14, 14 – 17.5
Turf  23 x 8.5 x 12, 33 x 12.50 x 16.5
Dimensions
Overall Length  122.9 in
Overall Width 53.9 in
Height with ROPS 91.4 in
Wheelbase 65.7 in
Ground Clearance 16.4 in
Weight 2,107 lbs
Front Tread 45 in
Rear Tread 43.2 in
Transmission
Type: HST
Main Shifting – Hydrostatic
Forward Reverse Method: Hydrostatic, High Low Gear Shift
Travel Speed Forward: HST: 3.9 – 12.1 mph
Travel Speed Reverse: HST: 2.3 – 8.5 mph
PTO
Type Live P.T.O. (6 Spline shaft)
Speed 540 / 960 RPM Option: 2,500 (Mid)
Power 18 hp
Hydraulic System
Type: Position Control
3-Point Hitch: Telescopic lower link / Telescopic stabilizers
Lift Capacity at Lift Point: 1,433 lbs @ lift point
Pump Capacity 7.7 gal PM
Total Flow GPM 8.2
Branson BL110S Front End Loader Specs
See the Branson BL110S Loader Spec Sheet here
Maximum Lift Height to Pivot Pin 87.5 in
Maximum Lift Height Under Level Bucket 82.4 in
Clearance with Bucket Dumped 68.2 in
Reach at Maximum Lift Height 18.2 in
Reach With Bucket On Ground 56.7 in
Maximum Dump Angle 42 degrees
Maximum Rollback Angle 35 degrees
Digging Depth 3.9 in
Overall Height in Carry Position 46.3 in
Depth of Attachment (to back of inner shelf) 18.4 in
Height of Attachment 19.1 in
Length of Attachment (to pivot pin) 23.1 in
Lift Capacity to Maximum Height at Pivot Pin 1433 lbs
Breakout Force At Ground Level, Pivot Pin 2721 lbs
Bucket Rollback Force at Ground Line 2013 lbs
Relief Valve Setting (loader control valve) 2276psi
Lift Cylinders 2.0 x 1.2 in
Bucket Cylinder 1.97 x 1.18 in
Width Bucket Specification 54 in
Bucket Capacity 5.3 sq ft
Loader Total Weight 579 lb
Weight of Boom & Quick Attach 299 lb
Mounting Frame Weight 150 lb
Bucket Weight 130 lb
Boom Raising Time 5.3 sec
Boom Lowering Time 3.4 sec
Bucket Rollback Time 2.7 sec
Bucket Dumping Time 4.2 sec
Cabin add-on
TYM cabins are designed for comfort and built to protect you from the wind, sun, and rain as you work through your land. 
All-season operations
Get more productive hours during winter and summer with the added protection of a TYM cabin.
Protection from the elements
Drive in safety and protect yourself from the wind, rain, or sun with a TYM cabin in place.
Enhanced safety
Ensure your safety from any flying debris, insects, or even from tipping over with a cabin installed in place.
SKU:
2610CH